Arroz Con Leche (Spanish Rice Pudding)
Um Safia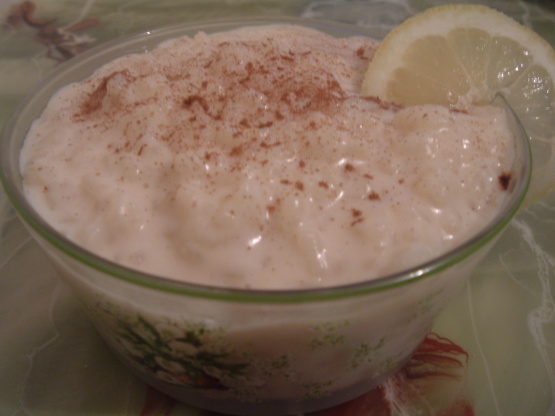 Excellent ! My husband is Portuguese from the Azores islands, and says that this recipe is probably from the continent. It is different from the rice pudding his sister makes, but he loved it just the same. I do find that it is a lot of work for only 4 portions, so next time I will be doubling the recipe.
In a large saucepan, slowly bring the milk, cinnamon stick, strips of lemon rind, and salt to a boil. With a slotted spoon, remove the cinnamon and lemon rind. Stir in the rice and egg yolks, reduce the heat, and allow the rice to simmer for about 15 minutes, stirring constantly.
When the rice is soft, add the sugar and butter and combine well. Pour the mixture into a serving dish, sprinkle with nutmeg, and serve warm.