Arroz Con Chile Verde (Green Chile Rice)
Prep 10 mins
Cook 20 mins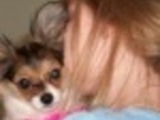 Quick and easy rice dish for your next Mexican meal.
Directions
Bring broth to boil in medium saucepan.
Add rice to water and stir. Remove water from heat, cover and let stand for 3 minutes.
Add all remaining ingredients to rice and place in a 2-quart, greased, casserole dish.
Bake at 350 degrees for 20 minutes.
Most Helpful
hey swap partner, this was terrific, i had last minute dinner guests and found this recipe to make with grilled chicken. it does not taste like an easy recipe, it tastes like a gourmet recipe, so good!!! my guests loved it and so did DH and I. A new member of my 'zaar star cookbook. sorry forgot the stars in the first review.

Good and easy!

We really liked this rice! I used chicken broth and brown rice with mild chilies. Didnt have any garlic powder so I used garlic pepper. This rice has a mild cheese flavor with richness from the sour cream. I didnt add any salt and it was perfect for us. Thank you Sandy, will be making this rice again soon.