JoyfulCook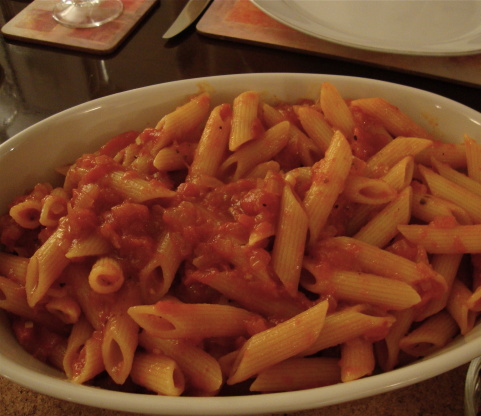 A delightfully simple pasta dish with loads of flavour and more than a hint of chilli which blends so well with the tomato. Served with a generous sprinkling of parmesan cheese, crusty bread and accompanied with a nice glass of red wine. Its a meal to linger over.
In a small saucepan, gently cook the onion and garlic in the olive oil until the onion has softened.
Add the chopped tomatoes with the juice, chilli flakes, basil and sugar.
Season with salt and pepper and simmer, stirring frequently for 40-45 minutes until its rendered to a nice thick sauce.
Cook the pasta in plenty of salted water until cooked 'al dente', and then drain the pasta.
Add the pasta to the sauce and mix in well. Serve with grated parmesan.
Add slightly more Chilli if a hotter flavour is required.