Aromatic Slow-Roasted Tomatoes
Cook4_6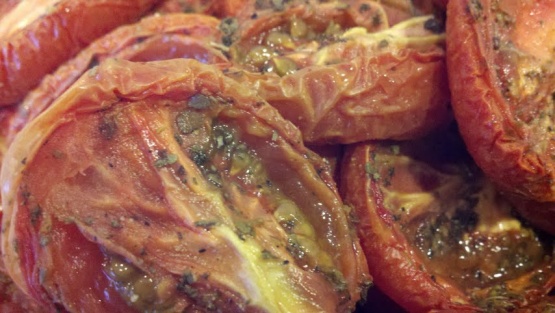 This recipe takes winter tomatoes and turns them into fruit with summery concentrated sweetness and intense tomato essence. Serve as a side dish with roast beef, lamb, steak, or fish. Or puree the tomatoes with olive oil and serve simply over pasta. From Cooking Light.

This is one of my all time favorite recipes of all that I have tried on food.com. I have made oven roasted tomatoes for Caprese salad in the past, but thought I would chop them and make home made marinara using them. Next time I will puree half of the tomatoes but am quickly jotting down my ingredients and steps for the marinara because it was simply divine!
Preheat oven to 200 degrees.
Combine the sugar, extra virgin olive oil, salt, basil, oregano, pepper, and tomatoes in a large bowl, tossing gently to coat the tomatoes.
Arrange the tomatoes, cut side up, on a baking sheet coated with cooking spray. Roast at 200 degrees for 7 1/2 hours.