Aromatic Broccoli and Cauliflower Salad
Annacia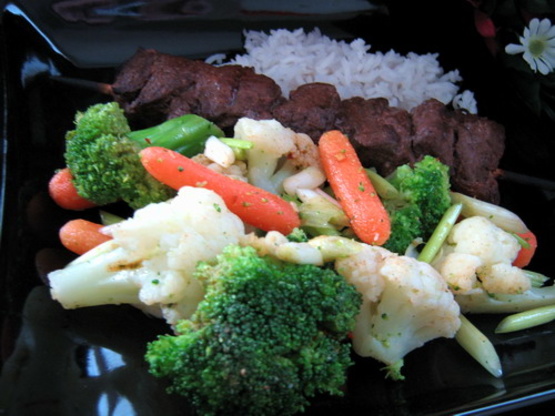 My version of a wonderful recipe courtesy of Weight Watchers. Don't tell'em its healthy just let then enjoy the great flavors of this easy side dish. This dish is 1 point per serving and Core.

I love the flavors in this. I made it early in the day and let it chill to go along with bison kabobs and Jasmine rice. I was out of red onion and replaced it with green onion (spring onions) because I thought that the yellows would be too strong. My only complaint about this salad is that there isn't enough dressing mix. I made 2 servings and was measuring in 1/8ths and 1/4's of a teaspoon. As the veggies I used were frozen I just defrosted them and mixed the dressing in a 1 ounce portion cup (with everything mixed is was about 1/4 of an ounce) and poured it on the salad veggies and let them chill most of the day. Thanks Toni for a lovely side dish. Made for Photo Tag.
Bring a large pot of water to boil and add the cauliflower and carrots. Let cook for 2-3 minutes, add the broccoli. Cook an additional 2 minutes until vegetables are crisp tender.
Drain the vegetables without rinsing.
Heat oil in a large skillet over medium high heat. Add the spices and let sizzle for a second or two before adding the steamed vegetables and red onion. Let cook just a minute or two until the spices are distributed and the onions have started to wilt.
Toss in the vinegar and lemon zest and transfer the salad to a serving bowl. Allow the salad to stand for 10 minutes before serving.