Susie T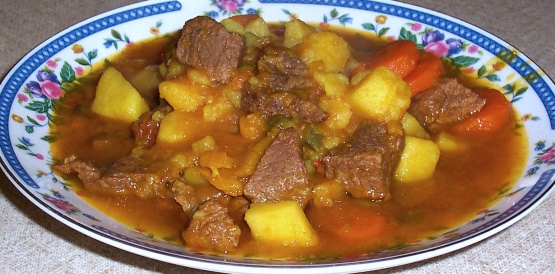 My dad used to make this when he was in the Spanish Military. They ate this morning, noon and night. I was brought up on it and missed it when I left home. Now I cook it for my family and they love it. This stew is called 'Patatas Guisadas' but we renamed it 'Army Soup'.

Excellent soup and easy to make too. In order that my picky eaters would eat this, after cooking the tomato(which I peeled), I pureed them. I did use a whole onion as mine were small and cooked it in broth not oil. This is definitely comfort food. Thanks for the recipe.
Heat oil in a large pot.
Saute onion, garlic, capsicum and tomato.
Add beef and cook until browned.
Add sherry and let it reduce a little and add some of the water to cover the beef.
Let simmer for about 20 minutes.
A pressure cooker takes less time.
Add rest of the ingredients and water and bring to the boil.
Lower heat and simmer for a further 1 hour or until potato is soft and soup appears thickened.
If using a pressure cooker, follow steps 1 to 4 then follow step 7 and place lid on pressure cooker and time from when the pressure starts to build up and shake the cap for 12 minutes cooking time on medium heat.
Sometimes when using a pressure cooker it becomes quite watery. If you like to thicken up the soup just use 1 tablespoon of corn flour mixed with a little water and stir into the soup until thickened.