ymasullo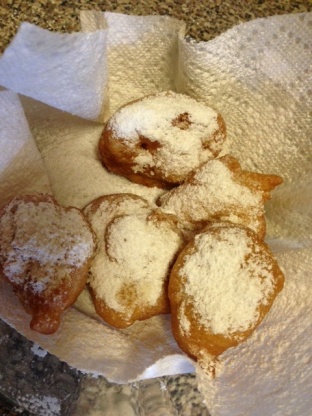 This is my grandmother Hyganoush's recipe. Light and fluffy and delicious. Can be served with maple syrup or confectioners sugar or BOTH! Great breakfast! I should also add that batter can be mixed the night before and placed in refrigerator overnight to rise. Take out and leave at room temperature for 1/2 hour or so before frying. When we were kids we used to see all sorts of people and animals in the shapes.

Some were like large tear drops. Some were somewhat round. I rolled in cinnamon and sugar and they were great. I put in a warm oven with a cloth cover to rise and it worked well, because the kitchen is really not warm enough right now. I will make again. Very easy. I recommend a thermometer to keep the oil constand temperature. Thanks for posting!
Dissolve yeast in warm water with sugar.
Whisk in eggs.
Add flour and salt to make a batter a little thicker than pancake batter.
Allow to rise in a warm spot until double in bulk.
Heat oil to 375 degrees.
Drop by spoonfuls in hot oil. Keep them rolling around until browned.
Drain and serve with powdered sugar or maple syrup.