Armenian Rice and Noodles
Ms B.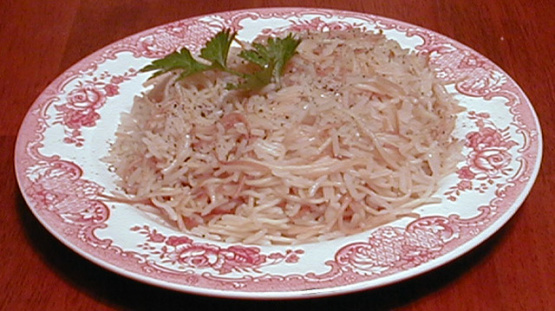 My daughters call this "Noodle Rice" and we have some variation on it several times a month. I've used broken spaghetti, vermicelli, and orzo in place of the egg noodles (choose eggless pasta to be totally vegan...well, duh, you knew that!) I also usually throw in a handful of golden raisins with it and up the water just a bit to account for plumping them up - the kids eat those first! Be creative...substitute a little lemon juice for part of the water if it's going with fish, etc. A nice, reliable add-on to dinner, originally from "Betty Crocker's New Int'l Cookbook."

This is a versatile keeper! This is a great mild recipe that easily lends itself to any number of extra seasonings as winkki suggests. I used chicken broth as half the liquid and the parsley perks the presentation up considerably. I was a bit concerned about using only 2 1/2 cups of liquid with 2 cups of grains, but it was fine.
Break noodles into small (1") pieces.
Melt butter in med-large saucepan; cook noodles in butter 5 min, stirring frequently.
Add remaining ingredients.
Bring to boil, stirring a few times; reduce heat.
Simmer, covered, 14 min (don't peek!) Remove from heat, fluff with fork.
Cover and let steam 5-10 min.
Garnish with snipped parsley if desired.