PaulaG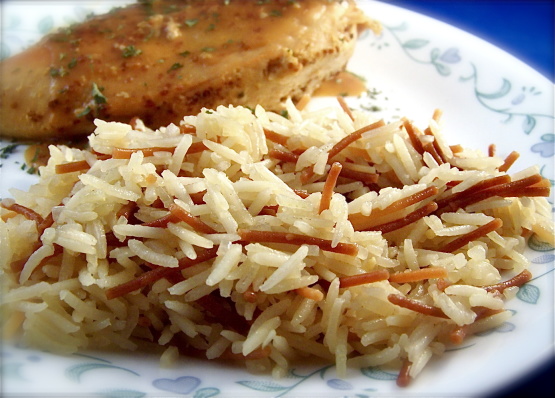 This is a recipe that I have been making since I was a teenager. My Step-Father was Armenian, and we ate this pilaf often, with our evening meal. It has a great buttery flavor, and can be made with either brown rice or long grain, white rice. It's YUMMY either way. I learned to make it with just butter. However, using a combination of oil and butter, helps to keep smoking and burning to a minimum, while still imparting the great buttery taste. I have also made it with just olive oil, and also with a combination of butter and olive oil. Of course, the flavor is slightly different. I think it has the best flavor, when made with just 3 Tbsp of butter (no oil), but it is healthier with the butter/oil combination, and healthiest with 2 Tbsp oil and no butter.

I made this tonight as an accompaniment to Fillet of Sole in White Wine (Recipe #84730). I've never had Armenian Pilaf before so I'm just rating based on how we liked it. My husband and I enjoyed it and I will definitely make it again, with a few of my own tweaks. I used angel hair (as that is what I had on hand) and macadamia oil in place of the safflower as I had a gift bottle from Hawaii. I also browned the rice in the skillet with the pasta. Very nice flavors! I think I want to add something else for additional punch ... maybe garlic powder or some herbs. That may not make it authentic "Armenian Pilaf" but it will please our palates. :) Thank you for posting!
1 1⁄2 cups long grain white rice

2

ounces vermicelli (May substitute Angel Hair Pasta)

2

tablespoons butter

1

tablespoon safflower oil (Olive oil may be used, but may taste slightly different)

3

cups organic chicken broth (unsalted)
1⁄2 teaspoon salt
Put the butter and oil in a medium sauce pan. Break Vermicelli into two inch pieces and place in butter.
Heat the butter, oil and Vermicelli, on medium heat, stirring constantly, until the Vermicelli is golden brown. During this time, the butter and oil will foam. This is fine, just keep stirring until all of the Vermicelli is golden brown.
Pour the chicken broth into the pan, which will stop the frying of the Vermicelli.
Add rice, and continue to heat, until the broth starts to boil.
Cover the pan, with a tightly fitting lid, lower heat, to lowest temp, and allow to simmer for 20 minutes, without stirring or lifting the lid.
After 20 minutes, stir rice mixture, and recover. Allow to sit another 10-15 minutes. When the liquid is fully absorbed, it is ready to serve.