jenjie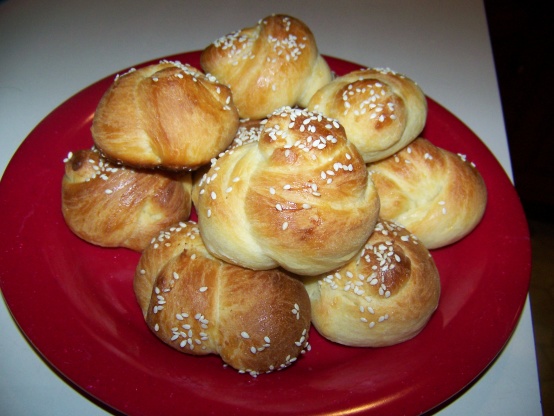 Very tasty and addicting sweet bread. Secret ingredients are mahleb, seeds which can be purchased in any Middle Eastern grocery, and nigella, black seeds. Makes two large or three small loaves. Passive work time includes rising time and baking time.
Dissolve yeast in warm milk in Kitchen Aide.
Add sugar and melted butter.
Beat eggs and add, along with salt, ground mahleb and nigella.
Add flour gradually, one cup at a time until dough comes away from sides of bowl.
Knead 10 minutes until shiny and no longer sticky.
Place dough in oiled bowl, turn to coat outside with oil and cover. Put in a warm place to rise until doubled.
Divide into two or three balls.
Divide each ball into three and roll out with your hands to three long ropes.
Pinch all three ends together and braid loosely. Pinch ends and tuck under.
Cover and allow to rise again until doubled.
Brush with beaten egg and sprinkle with sesame seeds or chopped blanced almonds.
Bake for 20 minutes in preheated 375 degree oven.