Argentinean Garlic Chicken With Corn, Tomato and Parsley Sauce
loof751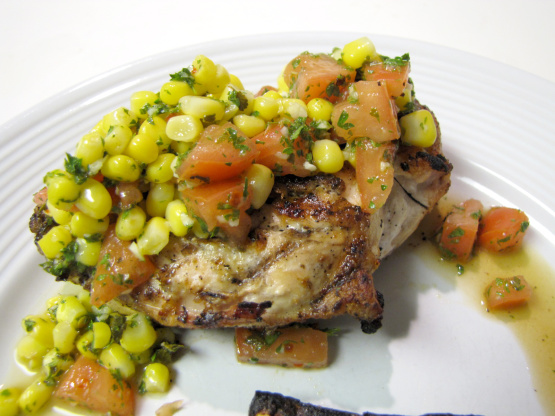 Fresh, mildly spicy & very refreshing. Plan to use on grilled chicken quarters - skin on & bone in! (Of course adjusting the heat & cooking time for the different meat - longer lower basically). Would be nice alongside Spiced Rice (Marsala Bhat) or Potato Salad With Peas & Mint . Received in an email from Dalton Harris via gourmet-recipes-from-around-the-world. Thanks Dalton!
Sauce: In food processor, combine parsley, onion, garlic, vinegar, oregano, hot pepper flakes, salt and pepper; process until finely chopped. With motor running, slowly add oil and process until well blended but with coarse texture. Pour into bowl. Stir in half the tomatoes. Stir corn into bowl.
Chicken: Combine salt, pepper, oregano, cumin and garlic and onion powders; sprinkle about 1/2 teaspoons on each side of each chicken breast.
Lightly oil barbecue grill and heat to medium. Place chicken on grill; close lid and barbecue for 3 to 5 minutes per side or until no longer pink inside. Serve with parsley sauce spooned over each one. Garnish with remaining tomatoes.