Argentine Rice-Veggie Salad
Prep 20 mins
Cook 20 mins
A recipe from Rachael Ray.
Directions
In a small saucepan, bring the rice, 1 cup water and 1/4 teaspoon salt to a boil. Lower the heat, cover and simmer until the water is absorbed, about 17 minutes. Fluff with a fork and let cool.
Meanwhile, fill another saucepan with salted water. Add the carrot, bring to a boil and cook for 2 minutes. Using a slotted spoon, transfer to a bowl; toss with 2 tablespoon olive oil, the vinegar and oregano. Season with salt and pepper.
In the same saucepan, blanch the corn in the boiling water for 3 minutes; transfer to the bowl with the carrot. Add the peas to the boiling water and cook for 1 minute. Transfer to the bowl.
Add the rice, cubed celery, chopped celery leaves and onion to the bowl, season with salt and pepper, drizzle with the remaining 2 tablespoon olive oil and toss.
Reviews
Most Helpful
Nutritious and easy way to use up leftover veg and rice with a few fresh additions. Very pretty too in the bowl. It looks very festive in fact. We had it as our main without onion and I love the versatility of recipe. Made for Everyday is a Holiday.
Great salad! I veered a little bit from the recipe, using brown rice that I had already prepared. I also steamed the carrots, corn, and peas together in the microwave. Surprisingly, this salad had a lot of flavor and was delicious. It makes a lovely side dish. In order to make it a main dish and suitable for packing for my lunch, I later added some crumbled goat cheese. Really nice! Thanks for sharing. Made for ZWT7 by a Hot Pink Lady.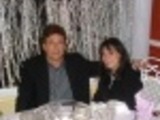 This was really wonderful. I did make a few minor changes, but stuck with the spirit of the recipe. I used one package of boil-a-bag brown rice. I also sauteed all of the veggies, since I'm not fond of boiled vegetable. I used frozen corn, peas & edamame, plus sweet white onion. I did leave out the celery too. But I stuck with the seasoning, using kosher salt, freshly cracked pepper and EVOO. Easy and healthy!