Argana's Moroccan Chicken
awalde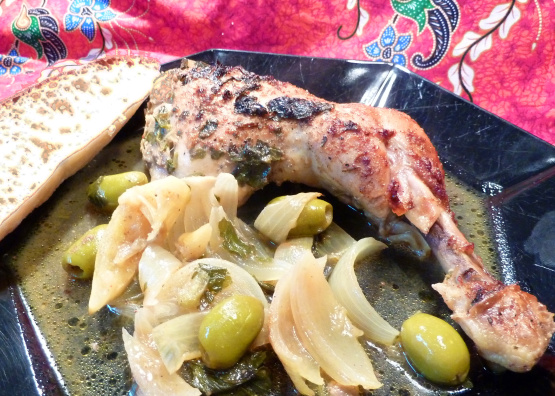 There are a lot of Moroccan chicken recipes here on zaar. I'm posting this one anyway since it's supposed to be a restaurant copycat.

Top Review by awalde
Hobbyzu! I had to discover your recipe soooooo many years after posting this recipe and it's soooo a fantastic recipe.
We enjoyed this dish like something holy! It was sooooo wonderful tasty and delicious!
I prepared some homemade bread (my Recipe #449099). This was a perfect combination with the tasty sauce of your chicken.
I had chicken with preserved lemons and olives in Fes (Marocco) and I prepared this several times without any recipe. Today I tried to find one in food.com and I found your recipe!
Very similar to mine, but much more complete and tasty.
Indeed, I did some changes: ground ginger instead of fresh one and from the beginning all the ingredients directly together.
Please, please post more recipes!
In a large tagine (terra cotta cooking pot) or non-metallic cooking pot, mix the onions, garlic, ginger, saffron, olive oil, parsley, cilantro, cumin, cinnamon, turmeric, paprika and lemon juice.
Add the chicken and toss until all pieces are coated. Cover and let marinate in the refrigerator at least 2 hours or overnight.
When ready to cook, pour the water into the tagine or pot. Add the salt and pepper.
Place on the stove and bring to a simmer over medium heat. Let simmer for 35 - 40 minutes, until the chicken is cooked through.
While the chicken is cooking, in a separate saucepan, bring the olives and preserved lemon to a boil. Let cook for 10 minutes, then drain.
Add the olive mixture to the chicken 5 minutes before serving. Serve hot.
(Please note that the 2 hour chilling time is included in the prep calculation.).