Arepitas With Chimichurri and Queso Fresco
KRex3186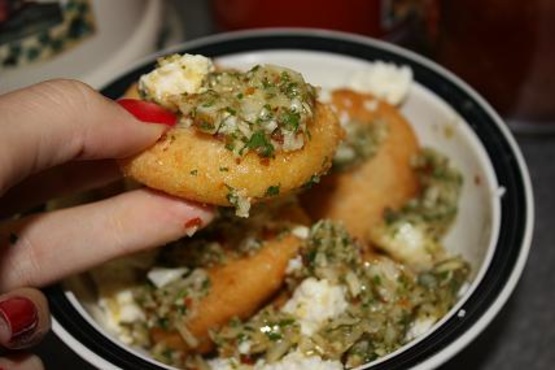 Recipe courtesy of Susanna Goihman, Azafran Restaurant, Philadelphia. Love latin infused tapa like dishes. I have yet to make this recipe, so if you do, please share your thoughts. Arepitas are similar to corn fritters.

These were awesome, but are slightly challenging to fry. My houses was filled with smoke at one point because I did not use a thermometer with the oil, so I highly recommend doing so. After I finally got the right temp for the oil they turned out great, very filling! The chimichurri was perfect.
Make the chimichurri: In a food processor, pulse the onion until finely chopped but not pureed.
Transfer the onion to a bowl. Add the olive oil, lime juice, parsley, cilantro, oregano leaves, garlic, and jalapeno and pulse until finely chopped.
Transfer the herb mixture to the bowl with the onion and stir to combine. Season the chimichurri with salt and pepper.
Make the arepitas: In a large bowl, whisk together the harina pan, Parmesan, and salt. In another large bowl, whisk together the water, milk, and 3 tablespoons oil. stir the milk mixture into the flour mixture.
Using your hand, knead the mixture until a firm but malleable dough is formed.
Cover the bowl with a kitchen towel and let the dough rest for 10 minutes.
Meanwhile, pour the oil for frying into a large pot to a depth of 2 inches. Heat the oil over medium heat until a deep-fry thermometer inserted in the oil registers 365 degrees F.
Form the dough into 1 to 1 1/2-inch round balls. Using the palms of your hands, form the dough balls into rounded "UFO" shapes.
Working in batches, add the dough balls to the oil and fry, turning occasionally, until puffed and golden brown.
Using a slotted spoon, transfer the arepitas to paper towel-lined plate and season with salt.
Serve the arepas in a bowl with the chimichurri and queso fresco in separate bowls on the side.