Food.com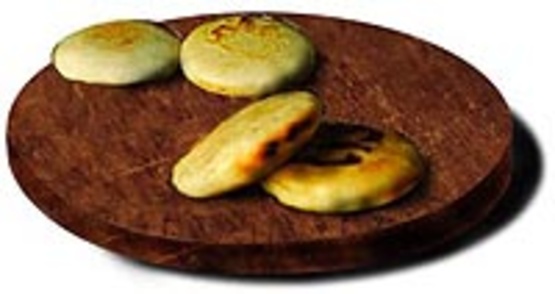 This is a typical Venezuelan dish (I'm Venezuelan), and I like to make it a lot since now I live in Spain. Everyone who has tried it loves them, so I thought I'd share it with everyone at Recipezaar.

I'd just like to say that its not really corn flour, It's a special flour called "Harina PAN", made in venezuela and the canary islands. It's easy to find in any large chain supermarket, you can even buy it online. I've really enjoyed theese since the first time my BF made them (I always fear my BF in the kitchen!).
Mix the water and the egg yolk.
In a large bowl mix the flour and the egg/water mixture.
Mix and kneed the dough for about 5 minutes until it is compact.
Cover with a damp cloth and set aside for 5 minutes.
Meanwhile heat a deep fryer to 170ºC, or fill a frying pan with lots of oil and heat.
Take a small ball of the dough, the size of an egg and mold into a flat circle, about 1 cm thick.
Fry until golden brown, turning regularly.
Turn out onto crumpled absorbent paper and leave to cool slightly.
Split them open (like a pita bread) and fill with cheese, ham, butter, honey or whatever you wish. (If there is too much "fluff" inside, you can remove it with a spoon, leaving only the outer shell).
Serve immediately--they don't keep and don't re-heat.