PaulaG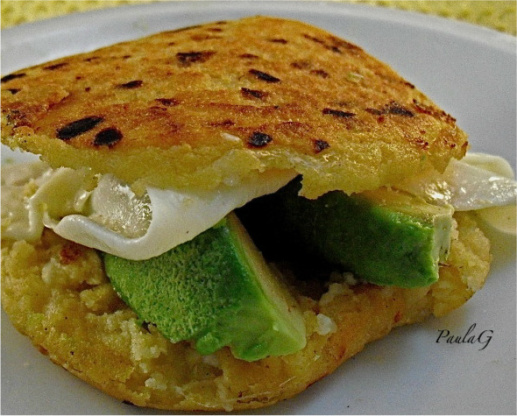 From Debbie who is married to a nice Columbian chap.

Top Review by awalde
Hi dear Dienia!
Your arepas are really great and worth to try!
I used Swiss cheese and exactly sliced "Raclette" cheese. A great and new way to serve both!
Note: If somebody prefers the cheese more melted, then put some seconds into the microwave!
MMHH, you will see!
Combine masa harina, margarine, salt, and cottage cheese with the hot water.
Knead well after each addition until mixture resembles new play dough.
Pinch off golf sized balls; press between two ziploc bags into 1/4 inch thick circles.
Cook lightly on greased surface of griddle until lightly browned.
Serve with butter and queso fresco.