Arborio Rice Italian Salad
tasterns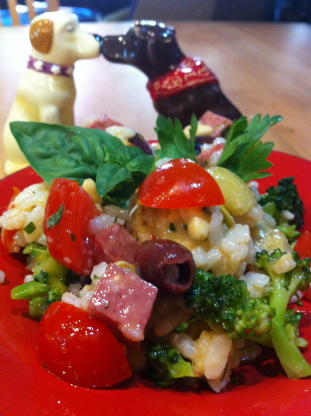 My whole family loves this alternative to pasta salad. It's a great gluten free and dairy free (switch out oil for the butter) option. This is a modification of a recipe found on the Alessi Brand arborio rice box.
1 1⁄2 cups arborio rice

2

tablespoons butter (or olive oil if dairy free)
1⁄4 cup pitted kalamata olive, sliced
1⁄4 cup roasted red pepper, diced
1⁄4 cup artichoke heart, diced
1⁄2 cup broccoli, flower-ettes small pieces- blanched al dente
1⁄2 cup thousand hills tm 100% grass-fed beef uncured summer sausage, diced (or other brand, gluten free, no MSG or fillers)
1⁄2 cup tomatoes, diced

3

tablespoons pine nuts, lightly toasted

2

tablespoons fresh Italian parsley, minced
1 1⁄2 tablespoons fresh basil, minced

1

teaspoon fresh oregano, minced
1⁄3 cup extra virgin olive oil, whisked together with

3

tablespoons white balsamic vinegar or 3 tablespoons rice vinegar
freshly ground sea salt and black pepper, to taste
Bring 3 C of salted water to boil in heavy saucepan with tight fitting lid. Add butter and rice. Stir while boiling for 1 minute. Cover and reduce heat to simmer. Cook rice undisturbed for 18-20 minute Fluff and allow to cool.
While rice is cooling, blanch the broccoli, toast the pine nuts and chop the other ingredients.
Transfer the rice and all ingredients to a serving bowl and toss to coat. Best served at room temp but can also be chilled.
Play with the ingredients to your liking.