Axles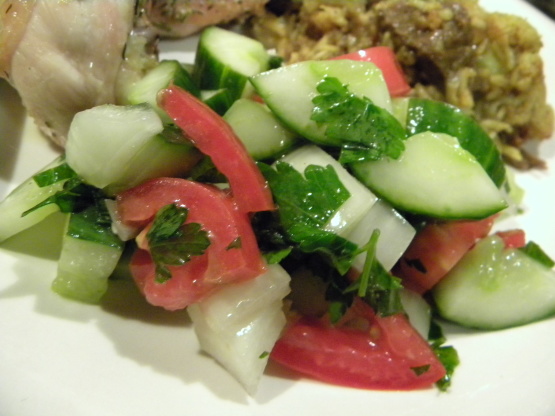 This is the standard Palestinian salad -- they eat it with just about anything but especially to accompany and give colour to rice dishes -- it might take a little getting used to, but you'll get used to it!

I prefer my version (gourmet Mag. April, 2004), which includes 1 c. Italian (flat leafed parsley) and 1/2 c of mint - both finely chopped. These 2 give a very distinct taste. Especially mint is VERY commonly used in Middle Eastern and North Indian cuisine. Christiane M.E.
Dice cucumber and tomatoes.
Place in bowl.
Add parsley and onion.
Just before serving, add the salt, lemon and olive oil and combine all ingredients.
Serve in small bowls to accompany rice dishes.