Chef Mom 5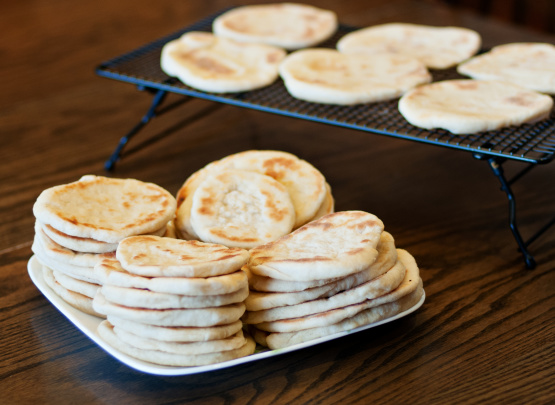 This doesnt taste exactly like arabian pita, but it is close. So quick and easy, and tastes better with arabian dishes (hummous, falafel, shawerma, etc). I make it when i can't get arabian pita, great with "fooll muddames" as well. This is my Mom's recipe.

Top Review by Amy V2
Delicious, quick, and easy. I've made these twice now and we love them. I have even wrapped leftover dough balls (already risen) in saran wrap and put them in the fridge for a couple of days. When I cooked the last batch up (straight from the fridge, then rolled out) they came out even fluffier than freshly made ones. I don't know why that is, but I'm happy it worked. Now when I make a batch of hummus, we can have freshly baked pitas with it each day! Oh-- also I only used 3 T. olive oil, 1 T. of milk (not powdered), 1.5 c. whole wheat pastry flour (with white flour for remaining flour) and it came out great.
Mix yeast, water and sugar.
Set aside.
In a large bowl, combine flour, dried milk and salt.
Pour in the oil and yeast/water mixture and stir well.
You might need to add more flour or water, depending on the absorbency of the flour.
Knead dough briefly, divide into 18 egg sized balls.
Place on a floured surface, cover and let rest for 15-30 minutes.
Roll one ball out and cook in a skillet until large "bubbles" form.
Flip pita over and cook the other side for a few more minutes.
I flatten it out with a spatula.
Keep bread warm (wrap in a towel or place in a ziploc bag) while cooking the rest of the bread.
These freeze well.