Arabian Cauliflower With Tahini
JustJanS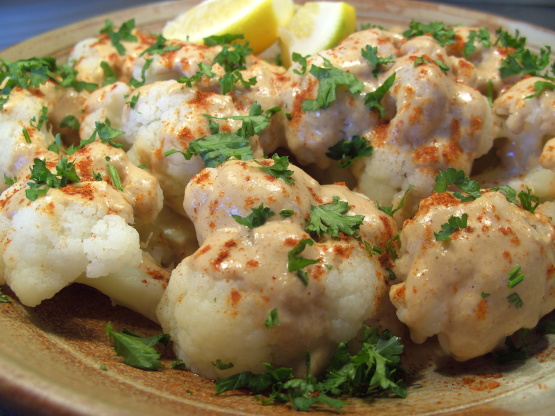 Always on the lookout for yummy recipes & needing to improve my collection of North African/Middle Eastern recipes...here we go! This looks fast, easy & yummy!

My husband and I loved this! I made one big change-and that was I served the dish hot. After steaming the cauliflower I immediately stirred in the tahini mixture and garnished with the parsley and lemon wedges. (I think to thin the mixture I must have added close to 3 tablespoons.) I could only imagine what this would taste like by roasting the cauliflower. Thanks for sharing. cg ;)
Cook the cauliflower by steaming or boiling until just tender; do not overcook! Drain and set aside.
Mix the garlic with the tahini, cumin and lemon juice. Season with salt, pepper and hot pepper sauce.
At this point the mixture is a dense thick paste. Add a little water, tablespoon by tablespoon, until the mixture is creamy, then mix with the cauliflower.
Cover and refrigerate until ready to serve.
At serving time, garnish with a sprinkle of paprika, chopped parsley/cilantro and/or lemon wedges.