Arabian Butternut Squash Casserole
MA HIKER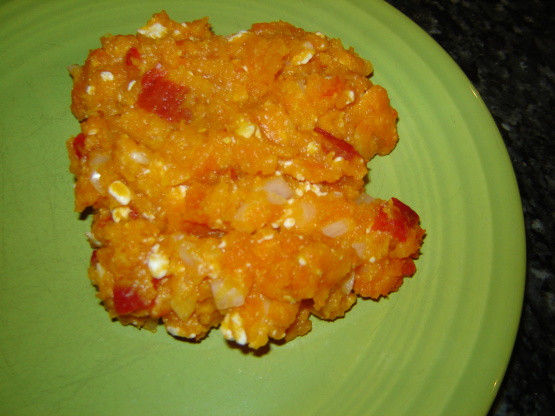 This is unusual but delicious. A tasty way to prepare butternut squash. I make a big batch of this on Sunday night and bring it to lunch all week. I cook the squash by halving a large one and roasting it in the oven at 350 degrees for about an hour. Let it cool and scrap out the delicious meat! Adapted from the classic Moosewood Cookbook.

Very nice! I've changed a few things though as I did not like it mashed: I steam cooked the butternut squash cut into pieces. I used 3 tablespoon of light cream and a spring onion. I then added the other ingredients, sprinkled some cumin and salt and cooked 20min in the oven.
Preheat oven to 375 degrees.
Place the mashed squash in a large bowl.
Add the remaining ingredients to the bowl and mix well.
Spread into an ungreased 9-inch square or 7 by 11 baking pan.
Bake uncovered for 25 to 30 minutes.
Optional - sprinkle the top lightly with sunflower seeds or minced walnuts - I usually omit this step. You may also saute the onions before adding and use fresh red peppers which you saute as well.