Apricot White Chocolate Chippers
Pamela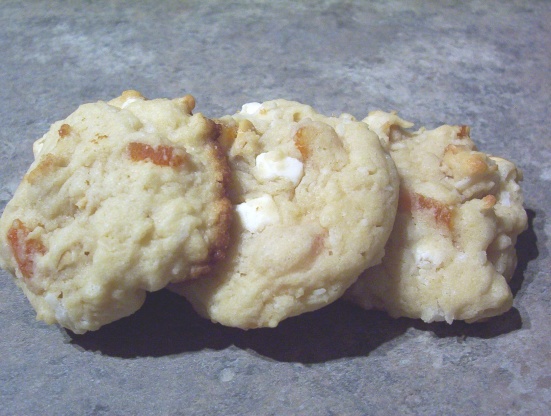 This cookie also makes a great breakfast snack for those on the run!An easy way to chop the apricots is to cut them into small pieces using scissors. This recipe was created for Ready, Set, Cook! (#6)

These are just beautiful. I cooked them over the weekend while my cousin was here. He's a big fan of food and he absolutely loved them, to the point that I sent him home with a tin. Although I did forget the coconut, they still taste yummy. It only took them about 10 minutes to cook in my oven. Next time I'm going to split the mix, put coconut in one lot and with the other half I'm going to dip half of each cookie in melted white chocolate. Thanks for a great tasting recipe. Even the kids love them!!!!
In a mixing bowl, cream butter and sugars together.
Add egg and vanilla and beat well.
Dissolve 3 Tbsp milk powder in the 1/4 cup water, then add to bowl.
Mix in salt, baking soda, cream of tartar, and lemon zest.
Add flour and mix thoroughly.
Mix in remaining ingredients and stir to combine.
Using two tablespoons, drop small amounts of dough onto a greased cookie sheet and bake for 10-15 minutes at 325°F or until bottoms of the cookies are light brown.
Cool slightly before removing from baking sheet.
Makes 2 dozen cookies.