BecR2400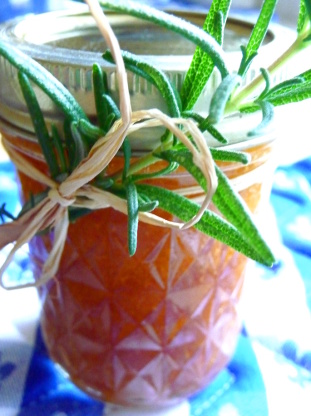 This jam uses only fresh apricots, sugar, and fresh rosemary. You do not need a special canner for this recipe.

The flavor is delicious, and I would give it five stars for flavor! That said, I had some real problems with this recipe. Cooking over medium-high heat for 30 minutes as called for in the instructions is too hot, and mine scorched, even though I checked often as stated! I recommend bringing the mixture to a boil over med-high heat, then reduce the temperature to medium, and stir every 5 minutes to prevent scorching. My apricots took over an hour to soften enough to pass through a strainer, instead of the 30 minutes stated. Definitely don't use a strainer, as it was way too much effort (I don't own a ricer), especially for 6 lbs. of fruit. Also had to add at least a cup of water to prevent it from sticking. I thnk this recipe might be salvaged with these changes, as well as using a really juicy fruit like very ripe peaches or juicy ripe berries, instead of apricots which are not usually a very juicy, runny fruit. Like I said, the flavor is delicious, though--thanks Ice Cool Kitty, wish I could give it more stars! Made for Preserving Summer in the photos forum.
In a large bowl, combine apricots, rosemary and sugar; mix well and let sit about 30 minutes until juices form at the bottom of the bowl.
Transfer the mixture, with juices, to a large pot and heat over medium high.
Once mixture begins to boil, reduce heat to medium and cook, while stirring often, until apricots are soft and begin to lose their shape, about 30 minutes, or more (they should not have darkened significantly).
Add a little water (up to a cup) if mixture starts sticking.
Press apricots through a ricer or fine mesh strainer and return to pot; discard solids.
Taste for sweetness and add sugar if needed; cook jam a few minutes more to dissolve any added sugar (flavor mellows as it cools).
While still hot, ladle jam into hot, sterilized canning jars, leaving about 1/4 inch head space at the top; remove air bubbles by running a nonmetallic utensil or skewer between the jar and the jam.
Top with new, clean lids, close tightly, and let come to room temperature.
Check seal by pressing down in center of lid, it should not spring up.
Process any jars that have not sealed in a hot water bath for 15 minutes; retest.
NOTE: To sterilize the empty jars, fill a large pot with water and bring to a boil over high heat, then reduce the heat so that the water is barely bubbling. Have ready seven 8-ounce canning jars with 2-piece lids. Immerse the pint jars in the canning kettle. Place the rings and lids in a separate small saucepan and cover them with hot water. Leave the jars and lids immersed while you cook the jam.