Apricot-Rosemary Glazed Pork Loin
breezermom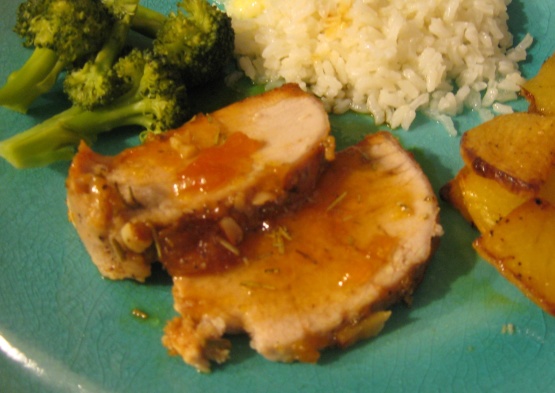 This takes only 10 minutes to prepare for the oven. It looks awesome when removed from the oven. The meat is very tender and the sauce provides a hint of orange and rosemary. The recipe is courtesy of Betty Crocker.

soooooo fantastic! I used a little more than 1/4 cup on the roast for cooking, and added more preserves and apple juice to the sauce pan. I made it a reduction, and it was so wonderful I can't even tell you. I served mine with roasted brussel sprouts and mashed potatoes. I'm making this for mothers day this year.
Preheat oven to 350°F.
Remove any excess fat from the roast.
Place roast in a 13x9-inch baking dish that has been sprayed with non-stick cooking spray.
Sprinkle with salt and pepper.
In a small saucepan, heat the preserves, sherry, rosemary and garlic over medium heat, stirring frequently.
When thickened, spoon 1/4 cup mixture onto pork reserving remainder.
Insert meat thermometer so tip is in center of thickest part of pork.
Bake uncovered 1 hour 15 minutes to 1 hour 30 minutes or until the thermometer reads 155°F.
Cover pork with foil and allow to stand 15 to 20 minutes or until thermometer reads 160°F.
Cut roast into slices.
Heat the reserved apricot mixture and serve with roast.