Posted for the Zaar World Tour 2006-South Africa. From the "Best of International Cooking" cookbook. I haven't had a chance to try this recipe yet. Note: the amount of puff pastry you need for this recipe is 1/2 of a 1-1/4 lb. package. Recipezaar's software doesn't recognize this.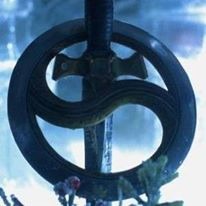 This was a bit time consuming for me to make as I'm not very good at working with puff pastry. Mine didn't look very pretty, but it sure did taste good. I had to sub pecans for the almonds as I didn't have any, otherwise followed the recipe. After slicing, I just had to try a piece while it was still warm and the flavor was wonderful with just the right amount of sweetness. Loved the glaze! I'm going to warm the remainder in the morning for breakfast. Thanks for sharing this recipe!
To make pastry and filling: Preheat oven to 475ºF. On a lightly floured board, roll out pastry to a 14x11-inch rectangle.
In a small bowl, combine jam and almonds; spread over pastry, leaving a 1/2-inch strip on 1 long side uncovered. Brush uncovered pastry strip with egg yolk.
Beginning with the jam-covered long side, roll up jelly-roll fashion. Pinch edge of roll to seal; press ends together to seal. With seam-side down, score top of rolled pastry at 1/4 to 1/2-inch intervals.
Rinse a large baking sheet in cold water; place roll on wet baking sheet. Bake in center of oven for 30 minutes or until golden brown.
To make glaze: In a medium saucepan, combine cornstarch and sugar. Gradually stir in orange juice. Add orange peel, butter and sherry. Place over medium heat. Stirring occasionally, bring to a boil. Continue stirring until thickened. Remove orange peel. Brush hot glaze over baked apricot roll; serve warm.