Apricot/Raisin Muffins With Cashew Top
Derf2440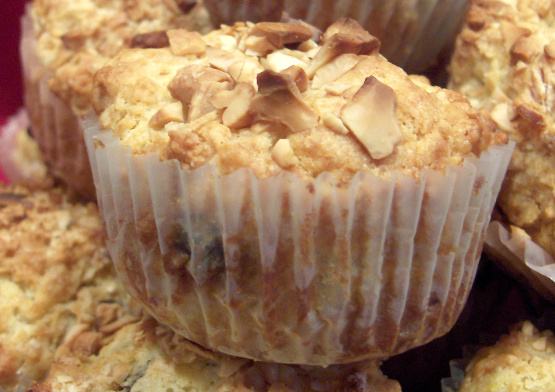 Entry for the RSC Winter January 2005 - miscellaneous

This muffins were delicious! I ate two hot straight out of the oven!
Preheat oven to 400°F.
Whisk together water and instant powdered milk; set aside.
Cream butter, sugar and egg together, until smooth; add reconstituted milk, lemon zest and juice, mix thoroughly.
In another bowl combine flour, baking powder, baking soda, salt, coriander, raisins and apricots; mix well.
Make a well in the middle of the dry ingredients; pour wet ingredients into the well; stir just enough to moisten, batter should be lumpy.
Either spray a 12 cup muffin tin with veggie spray or place a cupcake paper in each cup.
Fill each cup with 1/12 of the batter.
Sprinkle top of each muffin with chopped cashews.
Bake at 400°F for 25 to 30 minutes or until a toothpick stuck in centre of muffin comes out clean.