Apricot Raisin Bread (bread Machine)
najwa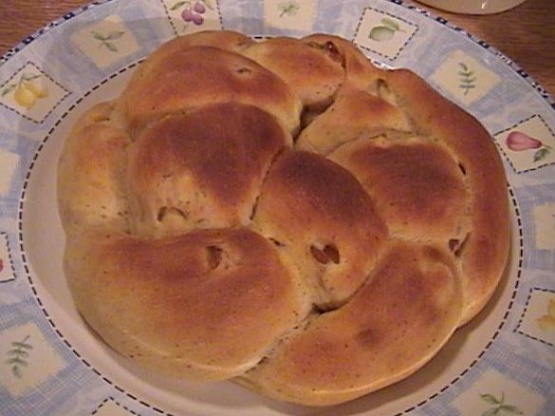 This is sweet and rich. Lovely toasted with a little butter! You may substitute prunes for the raisins.

This sounds awesome! I can't wait to try it! Great idea to braid it in a circle, like a wreath for the holidays! Thank you!
Heat cold milk for 30 seconds in the microwave; hold eggs under tap water for a minute to warm.
Add ingredients according to your manufacturer's directions.
Set Cycle: Sweet, Size, 2lb.
After about 5 minutes, check your dough: Add a tablespoon of water if too dry, or a tablespoon of flour if too wet, until dough is smooth.
Alternatively, set cycle to dough, take dough out and shape as desired.
I like to divide the dough in half, then divide each half into three, roll into ropes and braid, joining the dough ends together to create a braided circle.
Leave to rise until doubled, bake in a preheated 350 degree oven until golden brown, about 20-25 minutes.