Apricot-Pumpkin Bread Pudding, Diabetic/Heart Healthy
PaulaG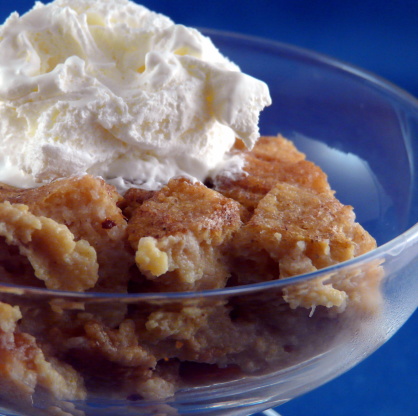 Also try this bread pudding with raisins or dried cherries in place of the snipped dried apricots.

Made this for some diabetic friends of mine & since they love pumpkin & apricots, I stuck to the recipe & its ingredient list! Then, in turn, shared it with friends of theirs along with a copy of the recipe! This was a really big hit, &, of course, the taste I got was wonderful, too! Definitely want to make this again just for myself! Thanks for sharing the recipe! [Tagged, made & reviewed in Healthy Choices ABC cooking game]
Preheat oven to 350 degree F.
Coat a 2-quart square baking dish with nonstick cooking spray.
In the prepared baking dish, combine bread cubes and dried apricots; set aside.
In a large bowl, combine milk, pumpkin, egg, sugar, and cinnamon or pumpkin pie spice.
Slowly pour pumpkin mixture over bread mixture in baking dish.
Gently press bread mixture down into liquid to moisten.
Let stand for 15 minutes.
Bake, uncovered, for 45 to 50 minutes or until a knife inserted in center comes out clean.
Cool slightly; serve warm.
If desired, serve with dessert topping. Makes 9 servings.