Annacia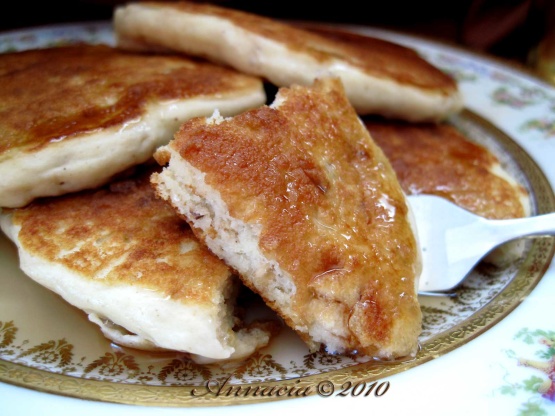 Another fruity breakfast treat. The nutritional punch of oatmeal, apricots, and walnuts is loaded into a recipe so tasty that no one will notice how healthy it is. Serve with butter and syrup in the traditional way or try spreading them with softened cream cheese instead. Freeze the extras to reheat in the microwave and you'll have a hot, delicious breakfast a lot faster than waiting in line at the drive-thru. Or hand them to the kids cold for an on-the-go, in-the-car start when time is short.

Ab-so-lut-ly delicious! I made a few alterations to suite me needs but don't think that the integrity of the recipe was sacrificed. I used skim milk an then fat free coffee creamer for the cream, used only egg white and replaced the molasses with Splenda and pecans for the walnuts. The outcome was a pure delight for breakfast. I simply love the apricots and nuts and the pancake batter its self fluffed and rose beautifully. I made 6, ate 3 and will pop the other 3 into the freezer right away. Made for the Diabetic Forum's Feb '10 Heart Health tag (QI= oats). What a marvelous recipe Killer :D.
Mix dry ingredients together thoroughly.
Add lemon juice to cream and let sit for 2 minutes.
While cream sits, beat eggs into the milk. Combine with cream, molasses, and vanilla.
Toss apricots and walnuts with the dry mix. Be sure to break up clumps.
Preheat lightly-greased griddle medium to medium-high.
Pour liquid mix into dry mix and stir together well to make a thick but fluid batter. DO NOT OVERMIX or pancakes will not be as light.
Ladle batter onto griddle to make pancakes about 4 inches in diameter. Turn when bubbles appear all over the pancake.
Cook until done in the middle – adjusting heat if necessary to avoid burning.
Continue, greasing griddle as necessary, until all pancakes are cooked.
Batter may thicken as it stands. It may be necessary to thin it with a little additional milk if it gets so thick that the pancakes don't cook properly in the center.
Leftovers can be reheated in the microwave or toaster oven. Do not use regular toaster because of the fruit.
Leftovers can be eaten cold for breakfast or snacks.
Leftovers can be frozen flat on a baking sheet lined with waxed paper then loaded into freezer bags to use as needed.