Annacia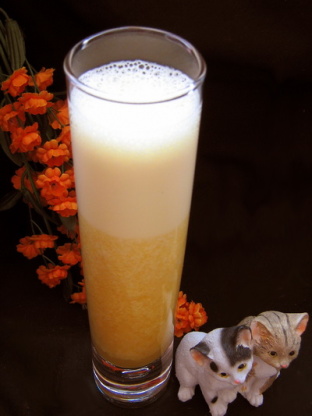 This mixture makes a great icy-pole (ice-pop) or add some crushed ice for a tasty & refreshing granita.

What a lovely mix of sweet and tart. It was nice and thick then I poured it but it did separate very quickly. Perhaps the ice addition would help that. I didn't add any sweetening as the orange juice was quite sweet on it's own. This would be wonderful made with the ice and poured into a frozen glass in the summer. BTW, I made the full recipe and drank it all, the servings aren't big.
200

ml fresh orange juice

25

g dried apricots

1

lemon, juice of
cinnamon (optional)
honey (optional)
Place apricots in a small pan & just cover with water, simmer until soft.
Add to fruit juices in a blender and mix until thick & creamy.