Apricot-Orange Salad With Sour Cream/Cream Cheese Topping
Prep 20 mins
Cook 20 mins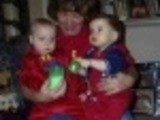 This yummy salad has fruit and vegetables both in it and is topped with a delicious sour cream/cream cheese mixture with cinnamon in it. Make ahead so it can set and pull it out at meal time.
Directions
Bring the water and grand marnier to a boil and pour over the gelatin in a large bowl. Stir till gelatin dissolves.
Add the dried apricots and cranberries and let sit and cool for about 5-10 minutes.
Using a potato peeler, make thin strips using one or two carrots so that you have 1/2 cup of carrot curls.
Add the can of mandarin oranges with juice, the carrot strips, juice of two oranges and 1/2 C cold water.
Stir, let set in a bowl or mold of choice in the refrigerator.
Blend the topping ingredients well.
After jello has set, spread on top. Serve and enjoy!
Most Helpful
I liked this a lot. My kids did not. I think it would be better if the carrots were shredded. It was very sweet but the topping helped cut through that. Good luck in the contest!
I found this to be a very refreshing & enjoyable [almost a dessert] salad! Although I almost cut out the Grand Marnier in the beginning, I decided to leave it in, though I boiled it a little longer with the water before using it. All the flavors of the fruits & the carrots combined very nicely with that of the topping! In an evening's time, 5 of us made short work of this salad/dessert!