3 Reviews
Well! I thought, 10 apricots, that's not much fruit. But it's perfect in this delicately flavoured loaf. I made it with slivered almonds, and added a little almond extract. My husband loved it he had two pieces warm with butter! Thanks for a keeper!

I made this for our Christmas brunch and it was a hit with the whole family! I also made an extra loaf for my mom and aunt and they raved about it also. I love the orange and apricot flavors. Thanks for sharing!

This was a delicious loaf of bread. It had a heavier texture, similar to pound cake, and the apricot and orange flavors were delightful. We really enjoyed it and with teenage boys coming and going from my house it didn't last even 24 hours. The only drawback was it only made one loaf!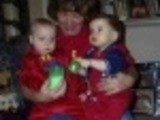 Apricot Nut Bread