Syrinx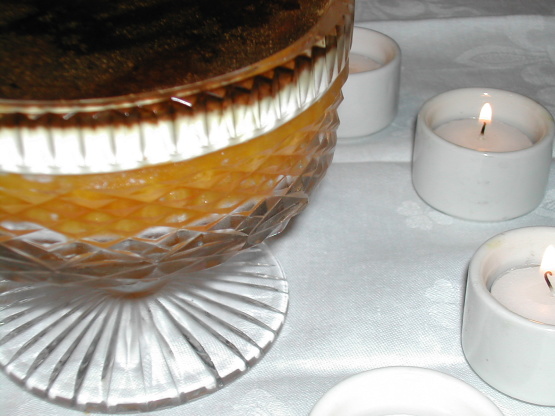 Delicious and decadent, in a healthy sort of way! This lovely dessert looks beautiful in a crystal or glass serving dish, when the different layers look very striking. The quantities here serve four (in a dish measuring about 4.75" or 12 cm in diameter, filled to a depth of about 1.75" or 4.5cm), but the recipe multiplies very well. Indeed, it started life as a recipe for 8-10, but I scaled it down! The recipe is very quick and easy to prepare (the cooking time shown includes 3 hours chilling) and the quantities are quite flexible, according to taste, availability and size of serving dish. I used "no soak" dried apricots; if your apricots are very dry (the sort which you can't eat straight from the packet), add a little more water in Step 2 and simmer for longer (until the fruit is tender) before continuing with the recipe. Created for Ready Set Cook #9 (2007), to use the following five ingredients: dried apricots, fresh oranges, Grand Marnier, brown sugar and cinnamon.

Reviewed for RSC#9. Now THIS was Different! The mix of Grand Marnier in the apricots gave an interesting flavour that was deeply contrasted by the natural yoghurt (I used Greek as recommended) It wasn't at all hard to make and I enjoyed mine very much. That said, I didn't feel that I would have wanted this too many days in a row as it is very filling, and because the taste is quite different and there is only so much of it that you could manage at a stretch. Please see my rating system: a lovely 4 stars for a recipe that would particularly suit as a dessert on a warm summers day with guests. Thanks!
8

ounces dried apricots

1

orange

4

ounces water

3

tablespoons Grand Marnier (or Cointreau)

6

ounces natural yoghurt (any thickish non-set yoghurt works welland Greek yoghurt is particularly good)
1⁄4 cup soft brown sugar (any type of soft brown sugar works well)
1⁄2-1 teaspoon ground cinnamon (according to taste)
Squeeze the orange to extract its juice.
Put the dried apricots into a small saucepan with the orange juice and water, bring it to the boil then simmer with a lid on for 10 minutes, adding the Grand Marnier towards the end of the cooking time.
When the fruit is tender, puree the apricot mixture. Taste it, and add a splash more Grand Marnier if you wish. You should have a thick puree (although the exact consistency doesn't really matter; if it is runnier, you just get a runnier dessert!).
Leave the apricot mixture to cool, then spread it neatly in a small glass serving dish.
Spread the yoghurt evenly on top, making sure that all of the apricot mixture is covered.
In a small bowl, mix the cinnamon and brown sugar, breaking up any lumps, then sprinkle this mixture evenly and thickly over the yoghurt so that the whole surface is covered.
Place in the fridge for at least three hours, until ready to serve.
The cinnamon-sugar dissolves into the surface of the yoghurt, creating a gorgeous dark syrup.