Tisme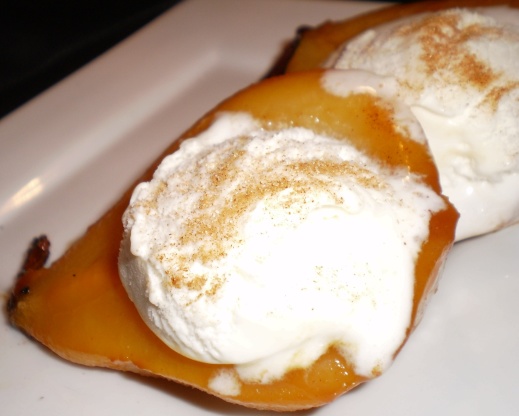 Served with a scoop of ice cream, this is a light yet satisfying dessert. Recipe from Radio City Rockette Lori Barber in Rachael Ray's 12/08 magazine. Cooking note: use a melon baller to core the pears.

Top Review by Tisme
This was something a little different to serve to the family, and they loved it. Easy to make ans I followed the recipe exactly and the Pears were wondeful. My problem was (and this was my fault....not the recipes) but I think I should have left the pears a little to ripen for a day or two, before using, I thought the baking would soften them a little and it did quite a bit, but they were still a fraction hard. So next time I know to use them a little more ripened. But it didnt matter, everyone still enjoyed these pears which I served with ice-cream. Thanks J.B. an easy desert to prepare and will be making again.
Preheat oven to 350 degrees. In a small bowl, combine the apricot preserves and orange juice.
Place the pears, cut side down, in an oven proof dish. Top with the apricot mixture and bake until soft (25 min or so).
Let cool for 20 minutes.
Place 1 scoop of ice cream in each pear half; drizzle with the sauce from the baking dish.
Sprinkle with a pinch of cinnamon and carnish the plate with a cinnamon stick.