Rita1652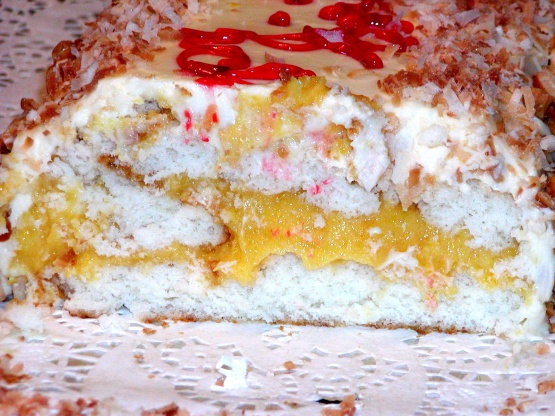 A white cake filled with creamy apricot curd covered with a cream cheese frosting and crushed cashew and toasted coconut garnishing the cake. Apricot curd is a take off of lemon curd which is a spread of choice in England and Scotland, and originated in Portugal. For ease this can be made as a layer cake filled and frosted.

I used this recipe to make a layered sheet cake for a company function. It was a smashing hit. I used one layer of apricot curd, the second later with the cream cheese filling. I substitued white grape peach flavored juice for the peach wine, and also added more powdered sugar to the cream cheese frosting, as I wasn't comfortable there was enough body to use it as layer filling. The cake was very moist and fresh flavored, and with the cashews and toasted coconut along the edges, was very showy. A definite hit, I'll make it again.
Apricot Curd:.
Heat apricots and wine for 1 minute in microwave oven.
Add to blender and puree apricots, sugar adding zest and juice of lemon blend till smooth.
Mix eggs and yolks together add mix some of the puree to the eggs then back to blender blending all ingredients except butter together.
Put into a microwave dish and cook for 3 minutes whisking every minute till thick and smooth.
Add butter and whisk till melted and mixed. Microwave for 1 more minute and chill covered till ready to use.
Cake:.
Preheat oven to 350°F.
Mix all cake ingredients together to blend then beat at medium speed for 2 minutes.
Bake in a 15x10-inch cookie sheet pan lined with parchment paper and then butter paper for 15 minutes.
Do not over bake.
Frosting:.
In a food processor process till smooth, airy and creamy.
Assembly:.
Immediately turn cake out onto towel.
Sprinkle with confectioners' sugar.
Roll cake along with towel.
Cool.
Unroll.
Spread with apricot curd.
Roll again.
Wrap with plastic wrap.
Cool.
Unwrap and place seam side down on cookie sheet.
Spread frost over roll and garnish with coconut and cashews.