Apricot-Dijon Mustard Chicken With Couscous
Boomette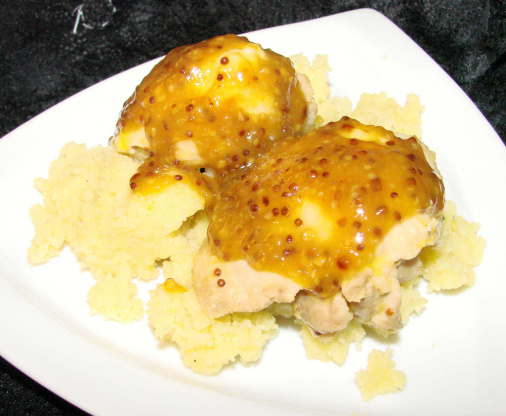 This makes a very quick and easy meal....just add a salad and bread, or a vegetable or two! Garnish the chicken with lime wedges and fresh basil sprigs for presentation. Its great for a busy week night, because total prep and cooking time can be kept to under 40 minutes! This recipe came from Bellingham Covenant Church's cookbook in Bellingham, WA.

Great way to fix the chicken breasts that I often prepare, & I do enjoy the combo of Dejon mustard & apricot! I did use just 4 breasts (large ones) but kept the other ingredients the same! Absolutely delicious! Thanks for posting the recipe! [Made & reviewed in Everyday Is a Holiday]
Combine apricot necar and mustard in a large skillet; bring to a boil. Add chicken; cover, reduce heat and simmer 10 minutes.
Meanwhile, bring chicken broth to a boil in a medium saucepan; stir in couscous. Cover, remove from heat, and let stand 5 minutes or until liquid is absorbed.
Turn chicken, cover and simmer an additional 5 to 8 minutes or until done.
Place couscous on a serving platter and place chicken on top of it, reserving the cooking liquid in skillet. Keep couscous and chicken warm.
Bring the reserved cooking liquid in the skillet to a boil; cook uncovered about 10 minutes or until it is reduced to one cup. Spoon the sauce over the chicken; sprinkle with minced basil.