ImPat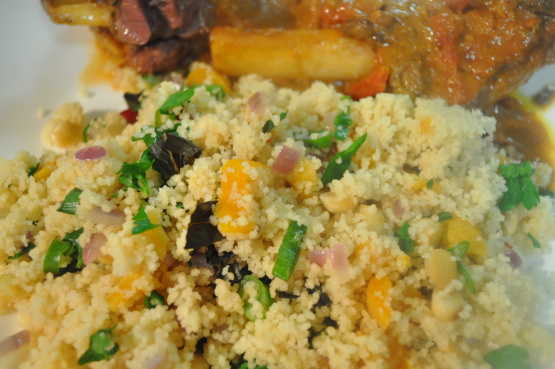 A quick side dish with an exotic flair!

Top Review by Ceezie
This was easy and pretty good, a definite change of pace for us. I made it as written. Next time I will omit the mint (I liked the freshness it added but not everyone else did) and add more apricots possibly more nuts. The parents were over and they didn't really love it but myself, dh and two toddlers did love it!
In a medium saucepan add 1 TBL extra-virgin olive oil, when it is hot add the red onion, almonds and apricots and saute gently over low heat until translucent and slightly fragrant.
Add the couscous then dump in the warm chicken broth. Stir with a fork to combine. Add lemon zest and cover. Let sit for 10 minutes, then uncover and fluff with a fork again.
Coarsely chop the green onions, mint and cilantro; add this to the couscous. Add lemon juice, drizzle with olive oil, and season to taste with salt and pepper. Toss gently to combine.