CoolMonday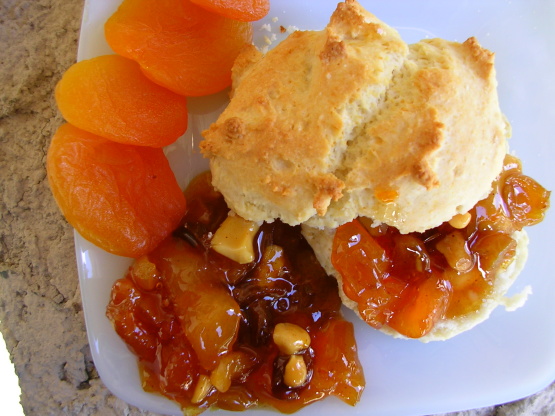 A deliciously different jam to enjoy on your toast, bagel or muffin. Developed for RSC #6.

One of my favourite things to do is make jams, jellies, relishes, and chutneys, preserve them in "cute" jars to be used for gifts, or church fund raising sales. You can imagine my delight at finding a fresh approach to "Apricot Jam". (In my opinion, anything cooked with wine must be OK). Because of its texture, I might label this tasty recipe a chutney rather than a jam; the blend of raisins, coriander, cinnamon and cashews creates a lovely addition to the flavour of wild meats such as rabbit, pheasant, venison and even moose. It must not be used only for bagels and toast. Try it over ice cream for a deliciously different dessert. Your taste buds will thank you. Congratulations on creating a Jam (chutney) worthy to be served at a formal dinner party. Not all jams are created equal, the rest must follow this one... Thank you for sharing your talent.
Combine the apricots, raisins, oranges and lemon (both zest and juice), coriander, cinnamon, wine and water in a bowl; toss to combine thoroughly; leave overnight.
The next day, put the fruit and liquid into a medium saucepan and bring to a simmer; simmer gently until the fruit is very tender, about 1 hour; add sugar and bring to a fast boil; boil about 12-18 minutes, or until a small amount of the fruit liquid, dropped onto a saucer and allowed to cool, wrinkles when your run your finger through it (this shows that the jam will 'set' once cool); stir in cashews, if using, and almond extract.
You can put up the preserves in canning jars in the usual way, or just keep refrigerated.