lazyme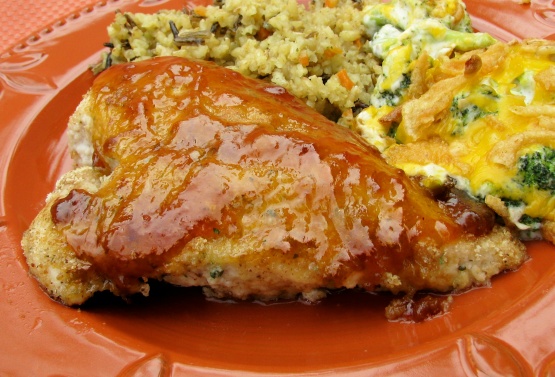 When the rest of my family would have chicken parmigiana, I created this recipe for my one child who was lactose intolerant. And then it became a regular favorite requested by the whole family as well. It can be adapted for people who aren't lactose intolerant by just switching out the lactose-free milk for regular milk I normally double this recipe. Enjoy!

My husband really liked this recipe. My kids and I thought it was ok. I used skim milk in place of the lactose-free milk because that is what we use in our house and followed everything else as stated. I pared this with Knorr Rice Sides and Recipe #513009 for a super easy dinner. Thank you for something a little different than the normal chicken Acadia*! Made for PAC Spring 2014.
Dip the chicken breast loins in the lactose free milk.
Then place chicken into the bread crumbs to coat.
Preheat the oven for Bake at 350°F.
In a skillet, on medium heat brown the bread crumb coated chicken until.
golden brown in the vegetable oil.
Placed browned chicken in ungreased baking dish in a single layer.
I melt the apricot preserves in a microwave safe cup, in the microwave at 20 sec. at intervals until it is in a semi-liquid form.
Then I drizzle the melted preserves over the chicken.
Bake in a 350 F oven.
For 30 minutes uncovered or until chicken is cooked thoroughly.
Enjoy!