Tisme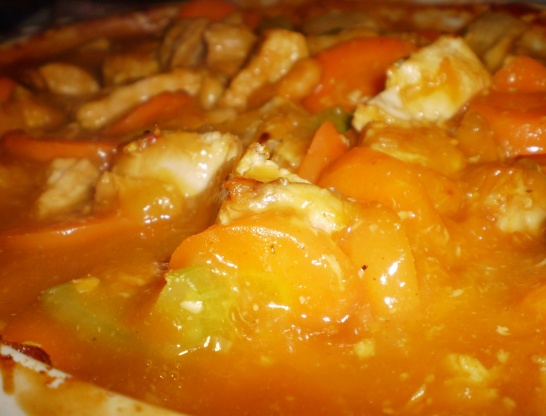 A favourite in our home....tastes even better reheated the next day. Serve with either plenty of boiled rice or mash potato. Can be made gluten free by using gluten free flour liquid stock and dry soup mix. In Australia Massell stock is gluten free as is Basco GF dry french onion soup mix.Options- top with some ground pepper or stir through some parsley or cilantro (coriander) before serving. For anyone who is gluten-free you can use "Dry Onion Soup Mix (Replacer)" to make your soup replacement to use in this chicken dish

Top Review by Tisme
DD makes a fantastic Apricot Chicken, so I tagged this recipe in Aus/NZ tag game trying to knock her off the blocks!
The family loved it, really loved it, BUT in reviewing this fantastic recipe ummmmmmmm......... hmmmmmmmm... I notice it's the
same recipe DD use's (she has reviewed also) sheesh!
Only one addition/change that I made. which everyone loved! I added toasted cashews as a garnish!
Think I win!!! lol
Wonderful recipe Jubes....seems this family has good taste!
Easy and tasty, and can't go past this one!
Just don't anyone let DD know I pinched her/Jubes recipe! I am sticking with the added cashews, and on-one will know!!!! lol
Thanks Jubes... One fantastic recipe, very well proven with this family!
2

teaspoons oil

3

tablespoons plain flour or 3 tablespoons cornflour or 3 tablespoons rice flour

1

(40 g) packetcontinantals french dry onion soup mix

1

(415 g) can apricot nectar
1⁄2 cup chicken stock

1

(425 g) can apricot halves, drained

2

carrots, sliced and steamed
Cut chicken into large chunks and roll in cornflour (I do this is a large plastic bag to cut down on the mess).
Heat oil in a large frypan and lightly brown the chicken pieces.
Add the soup mix,the apricot nectar and stock and stir well. Cover and simmer gently for about 10 minutes, or until the chicken has cooked through. The smaller the chicken pieces, the quicker they cook.
Stir in the apricot halves and carrots. Reheat.
ALTERNATE COOKING METHOD.
Combine all of the ingredients (except the apricot halves) in a casserole dish and bake at 180°C for approx 75 minutes. Add the apricot halves and the carrots during the last 1/2 hour of cooking time. Add a little extra stock if the dish thickens too much.