Apricot Bread Scrumptious!
Annacia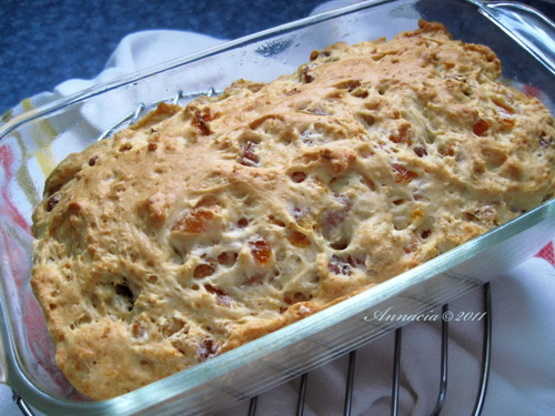 My sister made this for me and gave me the recipe last year. It's just plain Scrumptious! From The Inn at Maranatha Ranch, Alvarado, TX

The name of this loaf is 100% on the nose. Simply scrumptious! I used 3/4 cup of Splenda for the sugar and an orange/peach blend juice (all I had on hand) and it came out perfect. This is simple to make and mine was ready in 45 -50 mins. If you like fruity quick breads you will surely love this recipe. Made for PAC, Spring 2011
Plump apricots by soaking in warm water, drain and chop.
Cream sugar, eggs, water and butter. Stir in orange juice.
Combine flour, baking powder, soda and salt, add to cream mixture and stir to blend.
Fold in apricots and pecans, mixing well.
Pour batter into two 8 x 4 inch greased and floured loaf pans. Bake at 350 degrees for 1 hour or until a wooden pick inserted in center comes out clean. Cool 10 minutes and remove from pans. Makes 2 loaves. Delicious!