BarbryT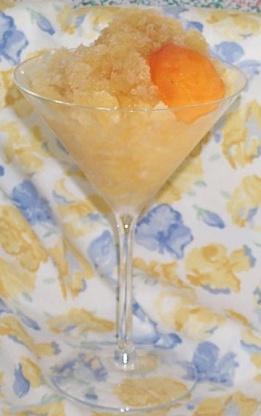 This is so good and refreshing. Nice drink to keep in the freezer during summer. This is great to bring camping if you have a freezer. Cooking time is freezing time. Servings are "guesstimated".
473.18

ml apricot brandy (be generous)

340.19

g frozen concentrated orange juice

340.19

g frozen concentrated lemonade

473.18

ml brewed tea (strong)

1656.13

ml boiling water

473.18

ml sugar
Dissolve the sugar in the boiling water.
Add all other ingredients.
Mix and freeze.
To serve, spoon some slush into a cup and add some Squirt or 7Up to your liking.
Can also be served for breakfast with added orange juice or for evenings with added brandy.