Tisme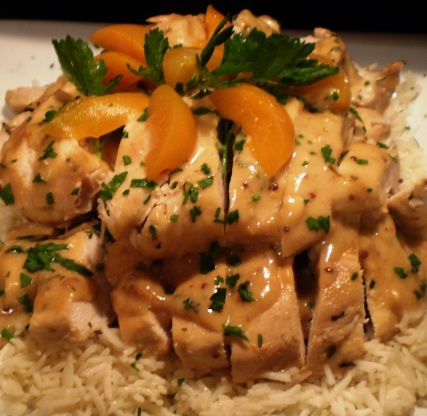 This is a super simple quick recipe to make, it tastes wonderful and the sauce goes really well with the chicken. We all enjoyed it very much and both my son and husband thought it was moreish.
Following the recipe to a "t" I felt this was only ordinary. There was not enough apricot flavor. It was just OK.
In a large fry pan heat some oil, add chicken and brown well on both sides. Remove and set to one side.
In the same pan add water, brandy, jam, stock and mustard stir to combine, mix a little water with the cornflour and add to sauce, stir until mixture thickens.
Add sour cream, return chicken to pan cook for about 10-15 Min's over a low heat to cook chicken through, stir in tarragon. Remove chicken and slice thickly.
To Serve: I served mine over celeriac mash drizzled with sauce and garnished with half an apricot.