Mandy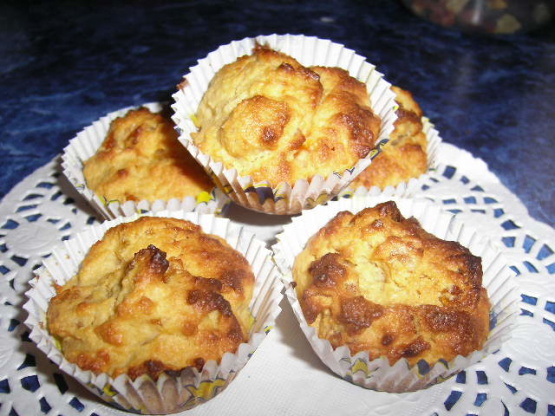 These are baked in individual ramekins and eaten from the dish with a spoon. Mmmm good! Adapted from Cooking Light(Jan/2006)

Top Review by Mandy
These were very easy to whip up & tasted good too. I only had about 1 cups worth of apricots and subbed Splenda for the sugar. I did them as mini cupcakes instead of in ramekins and got about 12 cupcakes & 9 bite-size cakes. These will be great for my DD's playgroup, thanks!
1 1⁄2 cups dried apricots, diced

6

tablespoons butter
1⁄3 cup apricot nectar

2

tablespoons honey
3⁄4 cup flour
3⁄4 cup oat bran (I sometimes use a mix of wheat bran and wheat germ)

1

teaspoon baking soda
1⁄2 teaspoon salt
1⁄4 cup packed brown sugar

1

teaspoon vanilla

1

(8 ounce) carton plain yogurt

1

large egg

1

large egg white
cooking spray
Preheat oven to 400*F.
Combine apricots, butter, nectar and honey in a small saucepan; place over high heat. Bring to boil, reduce heat and simmer 4 minutes or until apricots are plump. Remove from heat; cool.
Gently spoon flour into dry measuring cups; level with knife. Mix flour, bran, baking soda, and salt in a medium bowl, stir well. Add sugar mixture to flour mixture, stirring just until combined. Lightly fold in apricot mixture.
Spoon 1/2 cup batter into each of 7(6 ounce) ramekins coated with cooking spray. Place ramekins on a shallow baking sheet. Bake at 400*F. for 15 minutes or until golden brown. Put on wire rack.
Serve warm or at room temperature. Enjoy!