Annacia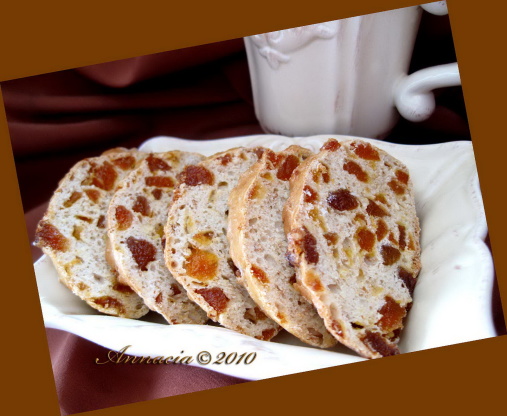 From a local church cookbook, this biscotti is delicious with a nice cup of coffee, tea, or cocoa.

If you have an apricot passion this is the biscotti for you. The flavor is alive with apricot intensity. I used 3/4 cup white and 1/4 cup whole wheat flours, 1/3 cup of Splenda, 1/2 a cup of egg white and added 1/4 tsp of almond extract then upped the vanilla by the same amount. The dough is very easy to handle and roll into the log shape but I should mention that it doesn't spread much at all. So, if you want the flattened oval that is common to biscotti you'll need to flatten it befor baking. All in all simply yummy :D. Made for Photo Tag.
Chop the apricots.
Sift flour, sugar, baking soda, and salt into a medium bowl.
In a large bowl, beat 3 eggs, orange zest, and vanilla with an electric mixer until just combined. Stir in the flour mixture and beat until a stiff dough is formed.
Fold in apricots.
In a small bowl, beat the remaining egg with the water. Form the dough into 2 logs, about 12 inches long each. Place on a greased cookie sheet and flatten slightly. Brush with egg wash.
Bake at 350 degress for 40-50 minutes, until golden. Allow the logs to cool on the baking sheet for about 10 minutes.
With a serrated knife, cut the baked logs diagonally into 1/2 inch thick slices. Place the slices (cut side down) on the baking sheet.
Bake at 350 degrees for 10 or 15 minutes more, until golden Cool on a wire rack. After cool, keep fresh in an airtight container.