Tisme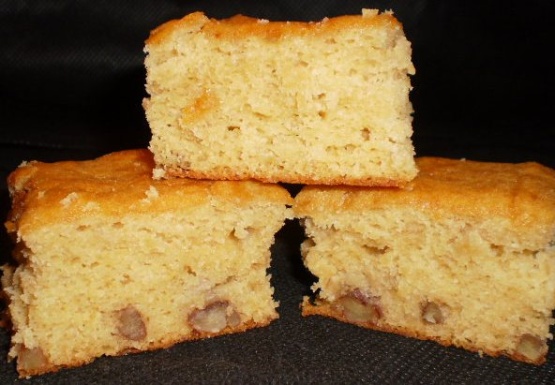 Several years ago Great-Grandma passed away and I inherited her collection of handwritten recipes. This is one of those receipes. Another use for ripe bananas.

I had bought some apricot preserves for another recipe and had 3/4 of a jar left, which my DH said he didn't like so made this cake. He loved the cake - I didn't tell him there were apricot preserves in it until after he ate it. I will probably be buying more apricot preserves just to make this again.
Preheat oven to 350 degrees.
Cream the margarine and brown sugar.
Blend in the preserves, eggs and vanilla.
Sift together the flour, baking powder, soda and salt.
Add alternately with the bananas, mixing well after each addition.
Stir in nuts.
Pour into a greased 13 x 9 inch baking pan.
Bake 35 to 40 minutes.