Apricot-Almond-Rum Pound Cake
Brenda.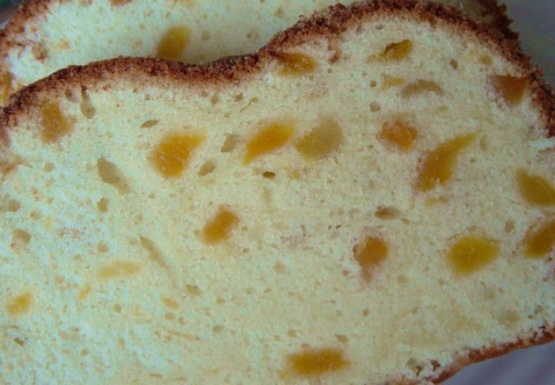 I got this recipe from my Mom's recipe collection. Flecked with apricot bits and flavored with rum and almonds, this is a moist and delicious pound cake. The recipe calls for light rum, but I have used dark rum and it was just as delicious. If you have the willpower, the cake tastes even better if wrapped when cool, and left overnight before cutting. I didn't name the recipe, but I don't know if I would classify this as a Pound Cake as it is quite light, just a bit denser than an angel food cake IMHO.
2

tablespoons butter, for greasing tube pan (you may not need whole 2 tbsp.)
1⁄4 cup ground almonds

1

cup dried apricot, chopped (or snipped with kitchen shears dipped in flour to prevent sticking)
1⁄4 cup light rum
3⁄4 cup butter, at room temperature
1⁄2 cup almond paste, broken up

1

cup sugar, divided

6

eggs, separated
1 1⁄2 cups all-purpose flour
1⁄2 teaspoon almond extract
Preheat oven to 350 degrees F.
Butter a 9 inch tube pan generously, and dust with ground almonds.
Combine apricots with rum and set aside.
In a large mixing bowl, cream butter with almond paste and 1/2 cup sugar.
Add egg yolks and beat until light and fluffy.
Mix in apricots in rum and almond extract until well blended.
Mix in flour until well blended, but don't over mix.
In another bowl beat egg whites until fluffy.
Into the egg whites, gradually beat in remaining 1/2 cup of sugar until stiff and shiny.
Mix 1/3 of the egg whites into the creamed mixture.
Carefully fold in the remaining egg whites until well blended but not overmixed.
Pour batter into prepared pan.
Bake for 60-65 minutes, or until a cake tester inserted in the center comes out clean and cakes slightly pulls away from side of pan. I start checking at about 55 minutes.
Note* The Rum flavor is faint, but complimentary. If you want a more pronounced rum flavor, sub rum extract for the almond extract.