Apricot & Almond Ice Cream Domes
Tisme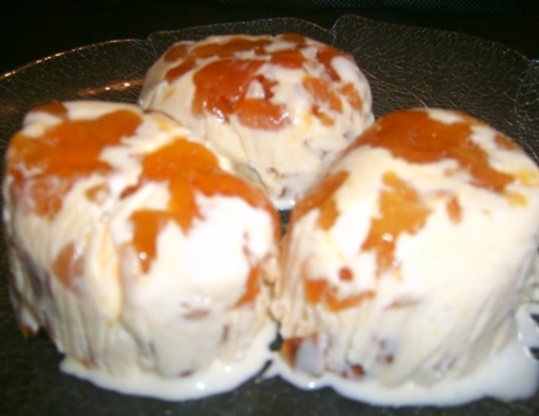 Posted as request for diabetic friendly recipes with nuts. From Health for Life Diabetes. Times are estimates and do not include chill/freezing time.

Top Review by Tisme
Thanks for posting this recipe for me Chef Potts, DH (diabetic) was looking for something different and he loves nuts in things. This is such a great recipe, easy and tastes great. I used friand pans and they turned out great! I used a low fat creamy ice-cream and I think it melted quicker than most being a crEamy variety, I will try a different one next time. These are in the freezer and the family have been told they are to be kept for their DD and him alone! I did let them have a taste test and are now disgusted DD is the only one allowed to eat them!!! They are soooooo nice Chef Potts and DH is very happy! Now when the ice-cream is being served, he can now have his own!! He can't have the chocolate sauce, but you know what he put on top of his? ........ yep you guessed it MORE NUTS!!!!
200

g dried apricot halves (6 1/2 oz, roughly chopped)

1

cup apricot nectar (250ml - 8 fl oz)

2

cups low-fat vanilla ice cream (low GI, softened)
1⁄4 cup almonds (flaked 25 grams - 1 oz, toasted)
Line 8 x 1/2 cup (125ml - 4 fl oz) capacity friand tins or 8 mini loaf tins with plastic wrap.
Put half the apricots into a pan with the apricot nectar, bring to the boil and cook over medium heat for 10 minutes or until most of the liquid has been absorbed.
Set aside until completely cool.
Spoon 2 tablespoons of apricot mixture into each tin.
Fold the remaining apricots, apricot mixture and almonds through the ice cream.
Spoon onto the apricot and smooth the surface.
Freeze for 8 hours or until firm.
Gently lift from the tins and remove the plastic and serve.