3 Reviews
This was absolutely wonderful and easy to make. DIVINE!
We have made this jam twice and it has turned out perfect both times. (last time was 28 pints) We use less sugar then the recipe calls for, but our apricots were very ripe and sweet. excellent tasting jam that reminds me of Christmas. The kids love it.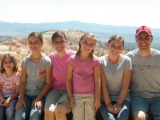 original review 7/2011 I've made this twice now. I have used your suggestions for extract and cinnamon but the pectin box for the amount of fruit and sugar. Here (in the US) our box is 49g so it was enough of a difference not to want to risk it not setting right. This time I used the "pink box" which for less sugar. It called for 6 cups fruit and 4.5 cups sugar. It was still plenty sweet. The regular box calls for 5 cups fruit to SEVEN cups of sugar! From tasting the bowl afterwards, I'm tempted to up the amount of cinnamon and maybe even the extract to get a more pronounced flavor. Update: I have been "tweaking" this as I go along and also was getting used to which pectin I would settle on. Now I'm using the Ball pectin low/no sugar which comes in the bulk jar (4.7 oz). Ratios are as follows- 6 2/3 cup apricots, 4 cups sugar (more than pectin called for but I feel it needs it), 7 Tbs pectin, 1/2 tsp cinnamon, 2 tsp almond extract. Yield is 7 half-pints. This recipe has become a standby for me. I ran out this June and was distressed until I realized that I had some apricots in the freezer so I whipped up another batch!

Apricot Almond Cinnamon Jam