Après-Ski Holiday Hot Chocolate With Brandy and Cream
NorthwestGal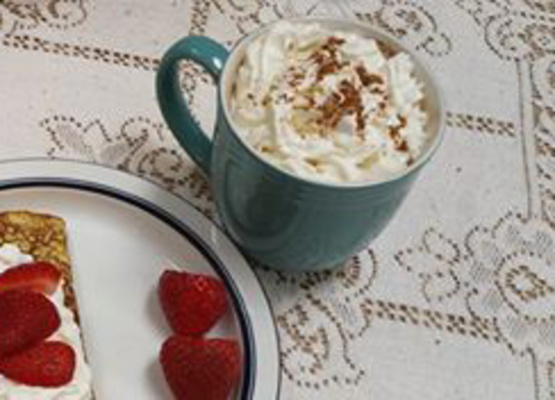 This spiced cinnamon hot chocolate is liberally laced with brandy and topped with whipped cream, it is the type of hot chocolate I remember drinking après-ski in Germany and in the French Alps. It is the perfect drink to warm your tingling fingers and toes on a cold and frosty evening or morning. Great throughout the Holiday season, as well as Christmas, New Year and the winter months, OR for those "Why Not" days! This makes 4 generous tall mugs of hot chocolate. Please adjust the brandy to suit your taste - we find the amount listed here gives a lovely warm tingle, however you can leave the brandy out for drivers and those that don't drink alcohol - you will still have a delicious spiced and decadent drink! Do try to use a high quality and high cocoa solids chocolate - it makes all the difference to the taste! Salut !

This was a nice rich finish to dinner tonight. I used Scharffen-Berger bittersweet squares for the chocolate, added a bit of extra sugar, and used 4 tbs of brandy. I also went with the cinnamon sprinkle for the topping (no sticks, though; too lazy to dig them out of the spice cabinet. Thanks for posting! Made for Culinary Quest 2 Switzerland
Gently boil the milk in a large heavy based saucepan, remove as boiling point is reached.
Place chocolate in a small pan and add 2 tablespoons of the milk. Stir over a low heat until melted, then add the melted chocolate mixture into the remaining milk, stirring well.
Add the sugar, cinnamon and brandy. Adjust to taste at this point.
Serve the brandy hot chocolate in tall heatproof glasses or mugs, top with a dollop of whipped cream lightly dusted with cocoa powder or cinnamon.
Serve with a cinnamon stick for a "stirrer"!
Salut!